« April 2023 »

| Mo | Tu | We | Th | Fr | Sa | Su |
| --- | --- | --- | --- | --- | --- | --- |
| | | | | | 1 | 2 |
| 3 | 4 | 5 | 6 | 7 | 8 | 9 |
| 10 | 11 | 12 | 13 | 14 | 15 | 16 |
| 17 | 18 | 19 | 20 | 21 | 22 | 23 |
| 24 | 25 | 26 | 27 | 28 | 29 | 30 |
The Belgian Steering Committee 'Biodiversity Convention'

The coordinating structures and the role of the Steering Committee

The conservation and sustainable use of nature and biodiversity conservation are essentially a competence of the three regions in Belgium. Some coordination at national level is therefore essential to undertake coherent national policy. The Coordinating Committee for International Environmental Policy (CCIEP) composed of representatives of federal and regional competent administrations, has been set up to provide coordinated action in response to European and international committments. Several thematic committees are currently operating under the direct authority of the CCIEP.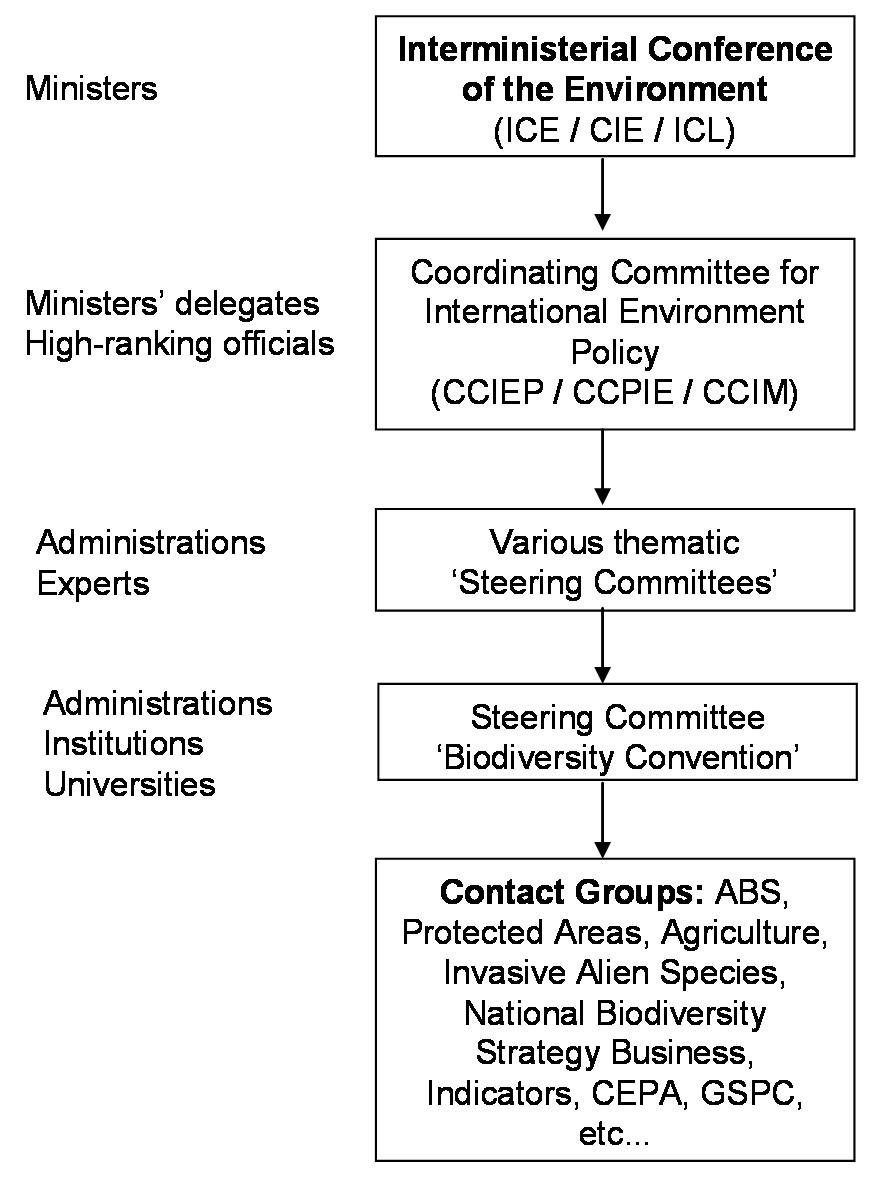 One of these thematic committees is the Steering Committee 'Biodiversity Convention', which deals specifically with all aspects linked to the implementation of the Convention on Biological Diversity. It holds several meetings per year, in function of the international and European agendas. Its terms of reference are the following:
preparation of Belgium's National Reports,
preparation of a Biological Diversity Country Study,
preparation of a National Biodiversity Strategy and Action Plans,
preparation of Belgian points of view and statements under the CBD process,
preparation and follow-up of SBSTTA and COP meetings,
expertise in Convention matters.
Another thematic commitee, the Steering Committee 'Nature' is more specifically in charge of the follow-up of other biodiversity-related conventions (Ramsar, CMS, CITES, Bern) and of EU policy.
Membership of the Steering Committee
One of the specificities of the Steering Committee 'Biodiversity Convention' is that is it is not only composed of administrative correspondents, but that it includes a number of scientific and technical experts selected for their expertise in a wide range of fields (conservation, management, agriculture, forestry, etc.). The latter usually come from universities, scientific institutions or advisory bodies.
The Presidency and Secretariat of the Steering Committee is held by the Belgian CBD National Focal Point.
Chair
Hendrik Segers, IRScNB-KBIN, Tel: 02 627 43 10, Fax:02 627 41 95, E-mail: nfp-cbd <at> naturalsciences.be
Secretariat
Marianne Schlesser, IRScNB-KBIN, Tel: 02 627 45 25, Fax:02 627 41 95, E-mail: nfp-cbd <at> naturalsciences.be
---