International day for biodiversity 2013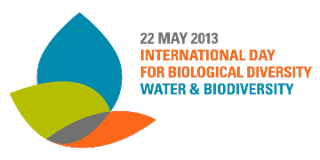 The theme Water and Biodiversity was chosen to coincide with the United Nations designation of 2013 as the International Year of Water Cooperation.
Water and Biodiversity is the theme for International Day for Biological Diversity (IDB) in 2013. Designation of IDB 2013 on the theme of water provides Parties to the Convention on Biological Diversity (CBD) and the public at large the opportunity to raise awareness about this vital issue, and to increase positive action.